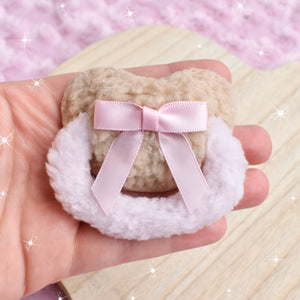 PREORDER: Will take 2-3 weeks to ship once order is placed.
Handmade with love, may have some flaws. 
You cannot replace the teat on fluffy pacifiers because of the way that they're made. 
Comes with cleaning instructions.
Please read cleaning instructions carefully and follow them to keep your fluffy pacifier soft and fluffy for as long as possible! 

This listing is for the product that is pictured.

All sales are final, no refunds or returns. Please make sure you have selected the correct item(s) before placing your order.

Once your order has shipped you will receive an email with your tracking number.

Pacifier base can be different colors, but you cannot see pacifier base color from the front of the pacifier.